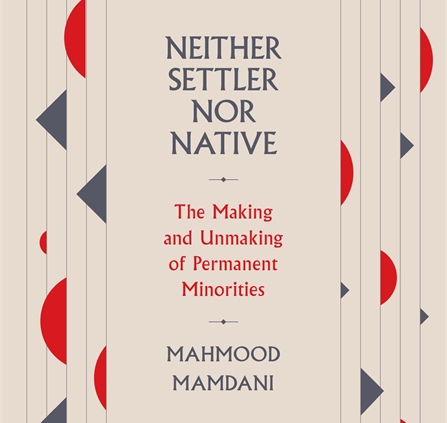 Webinar: Mahmood Mamdani / Neither Settler nor Native: The Making and Unmaking of Permanent Minorities
KIFO forsker Sindre Bangstad hadde  hovedansvaret for det siste Theory from the Margins' Zoom Webinaret i år, med Columbia University og Makerere Institute For Social Research sin Prof Mahmood Mamdani om hans siste monografi, 'Neither Settlers Nor Natives: The Making And Unmaking Of Permanent Minorities' (Harvard University Press, 2020). 
Mahmood Mamdani (1946 – fra Kampala, Uganda ) er en av de mest leste og siterte afrikanske akademikere og intellektuelle i vår tid. Han har holdt professorater ved Makerere University i Uganda, University of Cape Town i Sør-Afrika og Columbia University i USA. Mamdani har hatt gjesteprofessorater ved Princeton University, Nehru Memorial Museum & Library i Dehli og University of KwaZulu-Natal Durban-Westville, og har æresdoktorater fra University of Johannesburg, University of Addis Abeba, og University of KwaZulu-Natal.  Han har publisert tolv selvstendige monografier, blant annet 'Citizen and Subject: Contemporary Africa And The Legacy of Late Colonialism' (Princeton University Press, 1996); 'When Victims Become Killers: Colonialism, Nativism and Genocide in Rwanda' (Princeton University Press, 2001), 'Good Muslim, Bad Muslim: America, the Cold War, And The Roots of Terror' (W. W. Norton, 2004) og 'Saviors and Survivors: Darfur, Politics, and The War On Terror' (Penguin Random House, 2009).
Opptaket av webinaret finnes  her
https://www.kifo.no/wp-content/uploads/2021/06/9780674987326-lg.jpg
680
447
Ina Holmstad
https://www.kifo.no/wp-content/uploads/2022/08/logo1.png
Ina Holmstad
2021-06-11 15:07:24
2022-10-24 14:44:24
Webinar: Mahmood Mamdani / Neither Settler nor Native: The Making and Unmaking of Permanent Minorities